Hexaflex
for Clarinet, Viola & Cello
Performed by the NASH x RAM ensemble. Maria Ferreira Gomes (Clarinet), Aneesha Asano (Viola), Adrian Brendel (Cello).
Programme Note
In geometry, "flexagons" are a set of models that at first appear to be flat. However, when these models are manipulated (flexed), they reveal that they contain more sides in addition to its front and back face. A "hexaflexagon" is the hexagonal variant of flexagons that can possess either three sides ("trihexaflexagon") or six sides ("hexahexaflexagon"). These shapes can be folded using a strip of paper and act similar to the origami paper fortune teller (also known as a "chatterbox", "salt cellar" or "cootie catcher") except, when flexed, flexagons will open up entirely to reveal one of its many sides.
Mathematical mumbo jumbo aside, Hexaflex aims to invite the listener to experience a sonic equivalent of the movements inherent in flexagons. The music is constructed around various singular, distinct chords, that can all be reached from one another through different "flexagations" of the musical texture. These "flexagations" often require the musicians on stage to play more than two notes at a time, with overlapping chords seemingly not possible in a traditional trio setup, representing the phasing between two sides of a flexagon. The form is ultimately cyclical, as these chords do not necessarily function as points of arrival or departure, just as how there is no starting or ending face of any flexagon.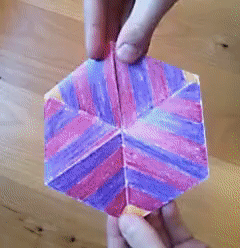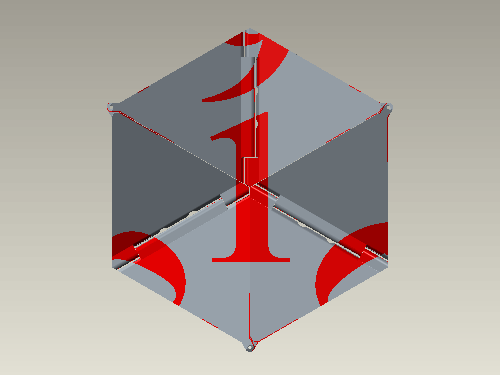 Some examples of "flexagons"
Hexaflex offers a relaxing opportunity to forgo the torment of progression to some sort of future achievement, and instead, focuses on the joy of presenting what can be reached right now, through the simple processes of flapping, pressing, and pinching of its musical fabric.
Programme note written by the composer
Dedication, Awards & Acknowledges
This work was commissioned by the NASH ensemble and performed as part of their concert series at Wigmore Hall on the 22nd of March, 2022.
Instrumentation
Clarinet (B-flat), Viola (with mute), Cello (with mute)
Score
Coming soon! (or contact me if you can't wait!)
Year(s) of Composition:
2022
Category: